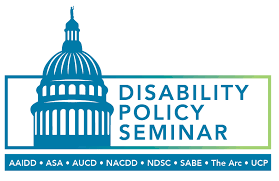 For the last 40 years, there has been a Disability Policy Seminar (DPS) in the nation's capital, organized and hosted by numerous disability organizations. This powerful event cultivates champions on Capitol Hill and advances the grassroots movement for people with intellectual and developmental disabilities (I/DD). This unique seminar has offered the opportunity for passionate advocates, self-advocates, experts, and professionals in the field to come together and learn about key issues.
For the second year, teams of two from postsecondary education programs were invited to apply for the Think College Policy Advocate yearlong policy education program, including scholarships to attend the DPS sponsored by Think College and the Association of University Centers on Disabilities (AUCD). Each team had to include one student in a postsecondary program and one staff person, both with a desire to learn more about public policy and advocacy. They will continue after DPS to learn, expand, and apply lessons learned at DPS to the work they do to promote their programs with policymakers at home. Thirteen teams applied, and five were selected; those five are:
We hope several other teams will plan to attend separate from this award, and there will be staff from the Think College NCC, National Down Syndrome Congress, and AUCD in attendance to guide this group of budding advocates.
These applicants who were selected, and those who are choosing to attend on their own, will have a chance to attend pre-conference sessions (one of which is specifically on inclusive higher education) to get some foundational knowledge for use throughout the DPS and do mock Hill visits; attend the introductory policy track of DPS to learn about a variety of public policy issues, including inclusive higher education; and ultimately participate in Hill visits on postsecondary education on the final day of the meeting.
It's an exciting time for these teams to visit Washington, DC, and learn interesting and valuable skills relevant to shaping critical disability-related legislation and policy now and in the future!
The 2020 Think College Policy Advocates are Announced!
https://thinkcollege.net/think-college-news/the-2020-think-college-policy-advocates-are-announced